Bike tours through Vienna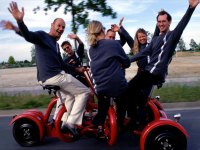 The city of Vienna attracts sportsmen as well as bike lovers thanks to, among others, more than 620 miles (1,000 kilometres) of bicycle paths: lanes reserved for bikes all around the Ringstrasse, the bicycle paths through the town and the green areas such as the Donauinsel (the "Danube Island" is a long, narrow island in central Vienna between the Danube river and the parallel excavated channel "New Danube"), the Prater (an important park in Vienna), the Lobau (a Vienna floodplain on the northern side of the Danube). You can go alone for a bicycle ride but that is not all: the team of Vienna city tours organizes bicycle guided tours every day during the summer. Parties can also book a private tour, groups of 2 persons can rent a taxi bike for short journeys, and little groups can rent a conference bike (they are also available for rental as a part of an incentive in Vienna). You can find on this page one of our numerous tours through Vienna by bike. For further information, do not hesitate to contact us by e-mail or by phone.
The team of Vienna city tours proposes for example these following bike tours through the Austrian capital:
Bicycle rental and bike tours for solo travellers in Vienna

For people who prefer to discover the Austrian capital on a bike, without being restricted by timetables and predefined itineraries, we recommend the bike rental - for a day - for simple tours in Vienna or even for longer excursions. If you rent a bike via Vienna city tours, the bike can be delivered anywhere in Vienna, right in front of your hotel for example. We will give you free booklets concerning the bicycle paths of Vienna and the journeys we recommend in 12 languages as well as a bicycle lock to protect your bike. If you are interested in renting a bike, the team of Vienna city tours will remain available by phone or by e-mail for any questions you may have.
Guided tours on a bike through Vienna

If you want to visit Vienna by bike, the team of Vienna city tours provides you with two kinds of guided tours in Vienna: on the one hand there are public guided bicycle tours for solo travellers and groups alike - everyday from May to September, at set times - and on the other hand there are private guided bicycle tours with your own tourist guide. If you want to register for bike tours in Vienna or if you wish to book a bicycle for private tours, please feel free to contact the team of Vienna city tours. We will be delighted to take care of your order and it will be a pleasure for us to help you organize your private bike tours through Vienna.
Journeys on taxi bike

The taxi bike is a very famous ecological means of transport in the Austrian capital. The team of Vienna city tours proposes tours in Vienna on a taxi bike for one or two persons: for technical reasons, the taxi bike can move only 2 people at the time. Beside the other bike tours, the taxi bikes can also be rented for transfers over short distances in the Viennese city centre. It could be an original surprise for your companion or even be included in a treasure hunt through Vienna or in role-playings in the city. Should you require further information about our taxi bikes and the services we provide, do not hesitate to contact our team by phone or by e-mail.
Conference bike tours

The conference bike is pedalled by 7 riders sitting in a circle. One person steers while the other 6 pedal (or not) as the bike moves effortlessly along. People who do not steer can enjoy the landscape and the monuments around. The conference bike is a revolutionary means of transport. Whereas the original idea was born in the Netherlands, the conference bikes were built in Germany in 2001 (in Hanover). The conference bikes have been available for rental only since 2006 in Vienna. All our conference bike tours suit perfectly incentives and special events; owing to the traffic, you can not take all Vienna roads. The team of Vienna city tours will be happy to give you more information concerning the conference bike rental.
How to book a bike tour in Vienna?
If you are interested in our public - as well as private - bike tours in Vienna, in the bike rental for solo tours or even in our taxi bike services or our conference bike services, then please feel free to contact us by phone (+43 1 966 02 61, from Monday to Friday, from 9 a.m to 5 p.m), or by e-mail at the following address: . It will be a pleasure for us to advise you!