Transfers in Vienna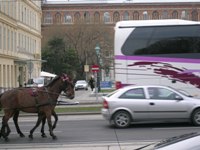 Beside the numerous sightseeing tours available in Vienna with Vienna city tours onboard the different means of transport, our team also proposes to organise your transfers in the city of Vienna by bus, minibus, horse-drawn carriage, taxi or bicycle-taxi. If you need a transport in Vienna, we will gladly process your order by mail, or phone. We are at your disposal for simple transfers from point A to point B in the centre of Vienna as well as for airport transfers to and from Vienna-Schwechat airport or Bratislava airport; and for ceremonies and special events in Vienna, we can also organise shuttle transport with, if you so wish, experienced event hostesses. Do not hesitate to contact us, by phone or by e-mail: the team of Vienna city tours will gladly answer all your questions about the organisation of transfers in Vienna.
With Vienna city tours, you will be able to order the following types of transfers:
Bus or minibus transfers in Vienna

Vienna city tours works in collaboration with some carefully selected Viennese bus companies to organise reliable, safe and comfortable bus and minibus transfers to and from any area in Vienna. Thanks to years of experience in the transport of passengers, its novating ideas and the efficiency of its infrastructure, Vienna city tours, with the help of the tour operator City Tours, won the confidence of many regular and satisfied customers who consider Vienna city tours as an important partner. Our services are popular for the transparency of our prices, the excellent value for money, our great flexibility, the competence displayed when advising our customers and the speed we show when queried. Whatever transfer you are looking for in Vienna or its surroundings, we will be happy to create a tailor-made offer for you.
Carriage transfers in Vienna

Transfers onboard a Viennese carriage in Vienna are a romantic and original idea, different from classical bus or minibus transfers. Carriage transports are particularly appreciated for incentives in Vienna, or even for special events and ceremonies. Moreover, carriage transfers are firmly rooted in the tradition of Viennese weddings. In collaboration with competent carriage companies, we propose white carriages for weddings, with flower decoration, and a coach driver in ceremonial costume. The team of Vienna city tours is at your disposal by e-mail or phone to answer any questions you might have about the booking of carriages for transfers or for a wedding.
Book a taxi transfer or an airport transfer

When the group to be transported is not large enough for a bus or minibus transfer, but the occasion is not festive enough to rent a carriage, the classical solution is a taxi transfer. In collaboration with carefully selected Viennese taxi companies, Vienna city tours gladly organizes transfers in the centre of Vienna, or taxi airport transfers. You can use our services to order taxis, either combining them to our city tours, or as an independant passengers transport service. To book an airport transfer or any other taxi ride, you can get in touch with the team of Vienna city tours by phone during the office opening times, or anytime by e-mail.
Book a bicycle-taxi transfer

The bicycle-taxi is a new and impressive means of transport, capable of carrying passengers from point A to point B in the city of Vienna. The bicycle-taxi is a particularly ecological means of transport; however, due to it being physically motionned by the driver, it suits a transport of a maxium of two persons with hand luggage only, and is in no way appropriate for long-distance transfers. It can also leave unforgettable memories during an incentive or as a surprise for your partner, or even for a fun transfer with friends. Should you have any questions about the booking of bicycle-taxis, or to order a transfer, please contact the team of Vienna city tours by phone or by e-mail.
Book an airport transfer or a passenger transfer in Vienna
If you wish to order an airport transfer, a bus, minibus or taxi transfer, or a transfer in the city of Vienna by bicycle-taxi or carriage, please contact us by phone (+43 1 966 02 61, from Monday to Friday, 9 a.m - 5 p.m), or by e-mail . We are looking forward to reading from you, and we will gladly help and advise you!