Tramway tours through Vienna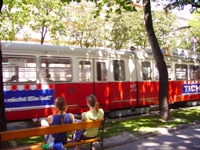 Tramways represent a pleasant way to discover the city of Vienna. It is a nice alternative to the bus. The team of Vienna city tours provides three different kinds of tramway tours in Vienna: first you have the journey onboard public transports accompanied by your Viennese guide, then private tours on the Oldtimer Tramway - you can rent a historic tramway for your party - and finally private excursions on board the "Badner Bahn" - a completely electrified railway from Vienna to Baden - which represents the first Austrian "museum-tram". Below you will find further information concerning the tramway tours proposed by Vienna city tours. If you are interested in our touristic services and if you want to put in an order you can get in touch with us by phone or by e-mail. We will be delighted to answer your questions.
Via Vienna city tours, you can book, among other things, the following tramway tours:
Guided tour onboard a public tramway

The city of Vienna is famous all over the word thanks to, among others, its excellent network of public transports. The public tramways run along the Ringstrasse, but also near the Hundertwasser House, Schönbrunn Palace, Belvedere Palace and many other tourist features in Vienna. The Viennese tourist guides take advantage of this pratical means of transport to propose parties or solo travellers interesting guided tours and visits of Vienna onboard a coach of the public tramway. You will meet up with your guide at a specific place, near a tramway stop. After the introductions and an overview by your guide, you will board the coach together and go to the first monument you want to see. There you can get off in order to see the monument and get back on to pursue your tour. These tramway tours represent an ideal solution for a first discovery of the Ringstrasse. Furthermore, the tramway tours offer a large flexibility and are a cheap means of transport. Please note that a tramway tour is limited to 12 people and that your guide can not give you explanations during rush hours on the tramway.
Private tramway tours in Vienna

Parties have the possibility to rent a tramway for a sightseeing tour through the city of Vienna. Several coaches of historic tramways are destined to be rented by groups of travellers and are also big enough for important groups. There are many different ways to organize tours onboard the Oldtimer Tramway: from the simple tour around the Ringstrasse to the tour in the city centre including the Ringstrasse and the Hundertwasser House or the Ringstrasse and the Belvedere (a famous palace in Vienna) or even the Ringstrasse and Schönbrunn Palace. Besides, it is also possible to end your tramway tour with a transfer, onboard the same tramway, to one of the Heuriger inns. The tramway tours are perfectly suited to the organization of incentives in the Austrian capital and could easily be combined with the services of a caterer onboard the Oldtimer Tramway.
Private tours on a lounge car of the "Badner Bahn"

The "Badner Bahn" is a completely electrified railway which runs between Vienna and Baden. Beside the above-mentionned tramway tours on the Viennese network, you can also rent the imperial lounge car of the "Badner Bahn" for private tours or for excursions to Baden as a part of a special event in Vienna. This imperial lounge car was in former times the means of transport reserved exclusivey for the emperor for his journeys from Vienna to Baden. Since the 1920's the imperial lounge car of the "Badner Bahn" is available for rental for sightseeing tours and can accommodate 20 people and can be tied to two "museum-trams" to reach a capacity of 85 passengers in total. Whether it be a tour in Vienna or an excursion to Baden, you can hire a caterer onboard the lounge car. Should you require further information regarding the prices and the itineraries, do not hesitate to get in touch with the team of Vienna city tours by phone or by e-mail. We will be delighted to help you!
Put in an order for a tramway tour in Vienna
If you wish to book a visit onboard a tramway with a Viennese guide or if you want to rent an Oldtimer Tramway or the imperial lounge car of Baden for private tours, then please feel free to contact us by phone (+43 1 966 02 61, from Monday to Friday, from 9 a.m to 5 p.m) or by e-mail at: . It will be a pleasure for us to give you advice and further information!