Details and information about the company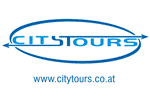 Vienna City Tours consists of a partnership between a selection of Viennese bus rental companies, experienced Viennese tourist guide and the Austrian tour operator City Tours. The tours provided by Vienna City Tours are partly tourist services organized by City Tours and partly tourist services proposed by a selection of our partners and Viennese tour operators. After having put in an order, you will be given all the information you may need about the corresponding service provider and your booking confirmation. All the orders put in with Vienna City Tours are subject to the general terms of sale of the tour operator City Tours Austria. The governing conditions are the main parts of the general terms of sale, the general terms of sale of City Tours as a tour operator and the Data Protection Declaration of City Tours. For certain tours in Vienna, particular transport conditions from the general terms of sale of an other service provider come also into account. In that case, you will be expressly informed. Should you require further information about City Tours' services and Vienna City Tours' offers, please feel free to contact us by phone but preferably by e-mail at the following address: .
Contact details of Vienna City Tours and of City Tours
| | |
| --- | --- |
| Corporate name: | City Tours GmbH |
| Postal address | Reisebüro City Tours GmbH, Rosaliagasse 19/6, A-1120 Vienna, Austria |
| Phone: | +43 1 966 02 61 |
| Fax: | +43 1 253 30 33 / 7792 |
| E-Mail address: | |
Information about the tour operator City Tours
Director: Alexander Ehrlich
Authorized signatory: Katarina Bachner
Corporate capital: EUR 35.000,00
Associates: Alexander Ehrlich (77,5%) and Katarina Bachner (22,5%)
Registered office: Rosaliagasse 19/6, A-1120 Vienne, Autriche
Registration number in the companies record at the Commercial Court of Vienna: 355042x (HG Wien)
Place of jurisdiction: Vienna, Austria
UID / VAT / TVA: ATU 66115401
Austrian Federal Economic Chamber: Vienna (travel agencies division)
Business licence: travel agency, qualifying examination passed in Austria
Competent trade authority: Magistratisches Bezirksamt für den 12. Bezirk, Schönbrunner Straße 259, A-1120 Vienna
Applicable professional law: Austrian Trade Act / Gewerbeordnung 1994

Further services provided by the tour operator City Tours
In addition to the organization of tours and guided tours in Vienna onboard various means of transport, the team of City Tours can also take care of further tourist services you could need such as the organization of trips to Vienna and of incentives, the event management, the recruitment of Austrian artists and the translation. If you are interested in one of the tourist services provided by the Viennese tour operator City Tours, do not hesitate to contact us any time by e-mail at this address: , or by phone from Monday to Friday and from 9 a.m to 5 p.m at this number: +43 1 966 02 61.