Vehicle rental for sightseeing tours in Vienna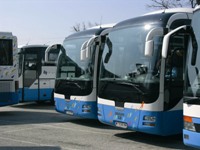 The team of Vienna city tours offers tourists and even Viennese people a large range of choices for vehicle rental for sightseeing tours in Vienna and its surroundings. We distinguish two different forms of services: on the one hand there are the public sightseeing tours with regular departures at set times - which solo travellers, small groups and famillies can enjoy - and on the other hand the private sightseeing tours - which include if you want a guided tour by a professional tourist guide onboard a hired vehicle. If you want further information about the prices and the timetables of our public sightseeing tours, then please read this page: dates and timetables of the public tours. The links of the navigation menu on your left will help you learn more about the tours and the vehicles we propose. The team of Vienna city tours will be delighted to advise you and to help you make your choice. You can reach us by e-mail or by phone.
Via Vienna city tours, you can rent all these kinds of vehicles for your tours in Vienna:
Bus: autobuses of any sizes and with many different fittings. Our buses have different seating capacities: from the 20 seat minibus to the 60 seat coach, including the others omnibuses with 30, 40 or even 50 seats. Moreover, you can also rent VIP buses or luxury buses. Themed guided tour onboard an autobus, combined if you wish with the services of a professionnal tourist guide.
Minibus: sightseeing tours through Vienna in a comfortable minibus with a professional driver guide who has a thorough knowledge of his town. It is possible to rent a wheelchair adapted minibus.
Stretch limousine and the luxury limousine: tours of Vienna onboard a limousine, from the standard limousine to the luxury limousine, including the strech limousine. We propose also sightseeing tours and transfers in limousine or in vintage limousine with a livery driver in uniform.
Carriage: sightseeing tours in Vienna Old Town and on the Ringstraße or even through the Wiener Prater (Vienna's most important park) or the Gardens of Schönbrunn on a Viennese carriage or on a white carriage with wedding decoration (flowers...)
Oldtimer tramway: guided tour on public transports or on the Oldtimer Tramway or even on the imperial lounge car of the "Badner Bahn&quot (a completely electrified railway from Vienna to Baden) especially rented for your tour. You have also the possibility to enjoy the services of a caterer if you wish to have something to eat during your sightseeing tour.
Boat: boat tours on the Danube at a set time, private cruises and organization of parties on a boat with caterer and shows, cruises to Bratislava or Budapest combined, if need be, with a guided tour, a guided walk or even with a bus transfer.
Bicycle: bike tours in Vienna either for a solo bike tour - in that case the documentation is free - or for a guided tour on taxi bike or conference bike tour.
Segway: the segway is one of the trendiest means of transport. The segway tour begins with a riding lesson. Our segways are at your disposal for any tours (public and private), incentives or event.
Schönbrunn tourist train: onboard Schönbrunn tourist train you can visit the wonderful Schönbrunn gardens. The Schönbrunn tourist train is available for public and private tours.
Heurigen Express tourist train: visit of Nussdorf and Grinzing, two important winegrowing areas, with a detour to the Viennese Woods. You can rent the Heurigen Express tourist train for your trips, your incentives and your events or for public tours.
Vienna Giant Ferris Wheel: public rides on the Giant Ferris Wheel and cabins rental for private rides on the Viennese Giant Ferris Wheel combined if you want with the services of a caterer for banquets or buffets. We propose an original idea: candlelight dinner for lovers onboard the cabin "Dinner for Two".
How to book a vehicle for a visit in Vienna?
If you are interested in a vehicle rental for tours in Vienna or if you need any other tourist service, then please feel free to contact us by phone at +43 1 966 02 61 ( from Monday to Friday, from 9am to 5pm ),or by e-mail at the following address: . We will be delighted to help you and to advise you!