Driver guides for sightseeing tours in Vienna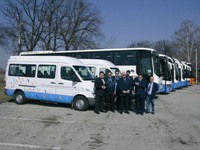 Small groups (up to a maximum of eight people) have the possibility of booking sightseeing minibus tours and limousine tours with our very nice Viennese driver guides. To hire a driver guide is a cost-effective option compared to hiring an experienced and certified Viennese guide, but the driver guides must not be confused with our certified guides who provide you with high-quality explanations. Whereas a Viennese guide should attend a two-year degree course and pass a very complicated national-level exam before having the possibility of working as a certified guide, the professional training of the driver guides is rather perfunctory. These driver guides are first-rate minibus or rental car drivers and in order to become a guide, they have attended a vocational training via City Tours Vienna about the main Viennese sights. Our driver guides have a thorough knowledge of the Viennese city and have developed a sound experience of their jobs over the years, working as a driver guide for parties as well as for individual tourists. However, the driver guides have not the same skill level in foreign languages or in history as the certified guides, and thus they are not able to offer you theme sightseeing tours or special sightseeing tours, but only a panoramic tour when you want to explore the Viennese city for the very first time.
The driver guides of Vienna city tours provide you with the following services:
Sightseeing minibus tours with a driver guide

Vienna city tours offers sightseeing tours to groups up to eight people with a driver guide and a minibus. You have also the possibility of renting this vehicule thanks to Vienna city tours. Our liveried driver guides will pick you up with the minibus at your hotel or at any other appointed meeting place of your convenience, then they will show you the main Viennese sights in the course of an about three-hour panoramic tour of the city. Please, do not forget that, according to the Austrian law, driver guides are only entitled to give explanations about these sights from the inside of their vehicles. If, at any time during the tour, you want to get out of the minibus in order to see a particular Viennese sight, your driver guide will drop you off at the nearest meeting place, will quickly advise you concerning this visit, will agree with you on how long this visit does take and will let you discover by foot the place you have chosen. When the agreed time lapse is gone, your driver guide will pick you up at the nearest car park and you will be able to resume your minibus tour.
A driver guide in a rental car

Just as for minibus tours, driver guides of Vienna city tours make also themselves available for your sightseeing tours in a rental car. In that situation, a driver guide is not entitled to guide you around the town by foot, he must give all of his explanations from the inside of his vehicle. At present, driver guides in Vienna offer their services to you in English, German, French, Italian, Spanish and Hungarian. The team of Vienna city tours, in close co-operation with City Tours Vienna, is currently working on recruiting driver guides who will be able to speak further languages. When these new driver guides will be ready to escort you, you will be notified of it, in any case, via the website of Vienna city tours.
How to hire a Viennese driver guide?
If you are interested in hiring a driver guide for sightseeing tours in a minibus or in a rental car in Vienna, please feel free to contact us by phone at the following number: +43 1 966 02 61, from Monday till Friday, 9 a.m. to 5 p.m., or by sending an e-mail at . We are looking forward to reading from you!