Minibus tours through Vienna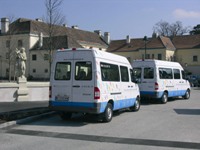 For little groups and for people with reduced mobility, we recommend you to book a minibus for a tour in Vienna rather than a bus. The minibus tours offer many advantages compared to bus tours: a minibus rental costs less than a bus rental; because of its ability to turn at sharper angles, you have more possibilities concerning the organization of your tour (the minibus can also go to places hard to get to on a bus). Moreover, when you rent a minibus or a limousine, you can book the services of a driver guide rather than of a guide who represents the only option for the other means of transport. A driver guide has not admittedly the same historic and cultural background as a certified tourist guide, but this service suits perfectly a first overview of Vienna. Furthermore, this solution presents the advantage of being cheaper. Below you can find further information concerning the different kinds of minibus tours in Vienna.
The team of Vienna city tours proposes the following minibus tours:
Minibus private tours through Vienna

All the tours we propose on our bus web page could also be rented with a minibus instead of a bus. You can choose between sightseeing tours, an overview of the main Viennese monuments and themed guided tours in Vienna. During special private minibus tours, the team of Vienna city tours can hire for you a certified tourist guide or a Viennese professional driver guide. If you are interested in minibus tours through Vienna, the team of Vienna city tours will be happy to give you information regarding the prices and the availability of our minibuses, guides and driver guides.
Wheelchair adapted minibus

Vienna city tours proposes a special service for people who need a wheelchair and persons with reduced mobilty: we can organize for you a wheelchair adapted minibus tour through Vienna. Our minibuses are equipped with a loading ramp which makes boarding and alighting easier. Furthermore, our minibuses are big enough to transport several wheelchairs at the same time. All the tours you can find on the bus web page are also available with this kind of minibus. Concerning the combination with a guided walk or with a museum visit, there are a few restrictions that the team of Vienna city tours will be delighted to explain to you. Moreover, our team will be pleased to suggest many other solutions!
A driver guide for your minibus tour

Besides the classical services of a certified Viennese guide for your visit onboard your hired vehicle, we propose the services of a driver guide (who is a driver espacially qualified for this activity) if you rent a minibus or a limousine. A driver guide has not the same training as a certified tourist guide but its services are less expensive. If you take all this into account, you will realize that the driver guides do not suit demanding groups. On the contrary, it is the perfect solution for little groups who want to find their way in Vienna.
How to book minibus tours in Vienna?
If you want to rent minibuses (with or without guide or driver guide), please feel free to contact us by phone (+43 1 966 02 61, from Monday to Friday, from 9 a.m to 5 p.m), or by e-mail at .