Tours in Vienna, Austria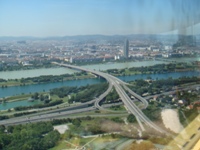 The website of Vienna City Tours is a service provided by the tour operator City Tours which proposes various tourist services - from the sightseeing bus tours to the many guide services - onboard many hired means of transport. Thanks to the team of Vienna City Tours, the public tours booking is quick and very easy, as well as the private tour booking, with or without the services of a Viennese tourist guide. You have also the possibility to use the services of Vienna City Tours for many other tourist services such as the guide services or the driver guide services as well as transfers on bus, minibus, hire car, taxi, limousine, carriage for example. If you want to know more about our tours in Vienna, please feel free to get in touch with the team of Vienna City Tours or with its partners. We can be contacted by e-mail or by phone.
Vienna City Tours provides, among others, the following services:
Public tours in Vienna

We suggest public tours in the city of Vienna onboard many different means of transport: these ones are restricted by timetables, and the solo travellers, families and parties can simply book one of these tours. In order to make your order easier, the team of Vienna City Tours clearly listed all the popular tours and tourist features. Furthermore, most of the time, the team of Vienna City Tours does not demand you to pay extra, it means that you pay the original price of the ticket, without any commissions. Choose Vienna City Tours for your public tours, you won't be sorry. Moreover, our after-sales service is efficient and our know-how as well as our partners are our pride. You can book public tours onboard all these means of transport: bus, boat, bike, Segway, Schönbrunn tourist train, Heurigen Express tourist train and Viennese Giant Ferris Wheel.
Private tours in Vienna

In addition to the above-described tours, the team of Vienna City Tours provides private tours or private tourist services for groups and for people who have particular expectations. We provide these private services in the same categories as the public tours. Furthermore, they are also available in these categories: minibus, with or without a driver guide, limousine, luxury limousine, stretch limousine, carriage (in the city centre, in the Prater or through Schönbrunn gardens) and tramway (with the tramway of the public network, the Oldtimer Tramway, the imperial lounge car of the "Badner Bahn". As a part of the private tours reservation, the team of Vienna City Tours will be delighted to take care of the all organisation of your trips in Vienna or ofincentives and to provide you with all the tourist services you may need.
How to book our tourist services in Vienna
If you are interested in one or several tourist services we provide in Vienna, you will find order forms that contain all the information you could need on this page "timetable". If you have any other questions concerning the booking or if you want to put in an order, please feel free to contact us by phone (+43 1 966 02 61, from Monday to Friday, from 9 a.m to 5 p.m) or by e-mail at the following address: .